Mark your calendar for a full schedule of facilities programming, July 20-22, 2021.
View all the sessions planned for Wednesday, July 21.
Cultivating Community and Contribution to Educational Excellence!
---
Join your colleagues July 20-22 for the APPA 2021 Virtual Facilities Summit as we explore the environment we dedicate our profession to and recharge ourselves to the mission of our institutions.
APPA continues to provide steadfast guidance to you, our members, as you have risen to the challenges of the pandemic, ensuring your networks are strong and your development opportunities support your rise to excellence.
The program will offer:
Three general sessions to expand our thinking and inspire us;
Educational concurrent sessions with in-depth technical content; and
Networking opportunities for our business partners and institutional delegates.
Special keynote speaker: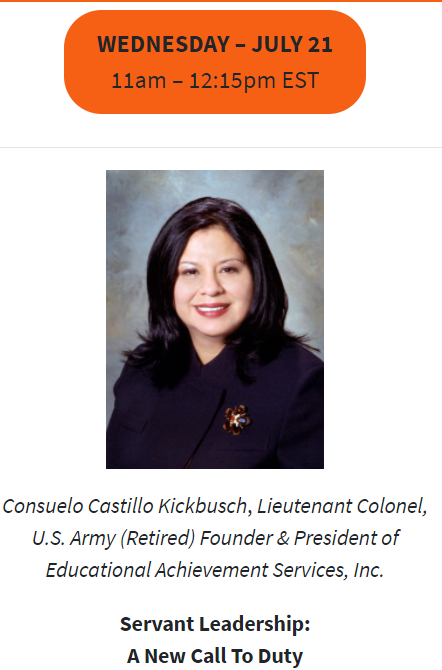 Born and raised in a small barrio in Laredo, Texas, Consuelo Kickbusch overcame poverty, discrimination, and illiteracy to become a successful community leader. Lacking material wealth, Consuelo's immigrant parents taught her to value her culture, traditions, values, and faith.
Throughout her education at Hardin Simmons University and rise to the highest-ranking Hispanic woman in the Combat Support Field of the U.S. Army, she embodied their invaluable lessons, eventually retiring to fulfill her mother's dying wish – that she return to her roots and become a community leader.